NEW: See complete Video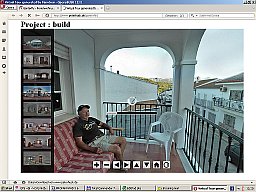 of Ap. 1 a...
The house GANTERFLY (Ap. 1a, Ap. 1b) consists of 2 floors with separate entrances and a garden. On the upper floor is a very luxurious apartment.
Ap. 1 has 2 terraces with beautiful views of the S and SE take offs and the mountains of Grazalema. It also contains a very nice kitchen, living room with TV, bedrooms, one with en suite, 2 bathrooms and a small room with washing machine. Ideal for families or small groups. Ap. 1b sleeps 9 people. The ground floor has got a very big social room, 3 double bedrooms with en suite, one triple bedroom and a big bathroom. There is an Andalusian Patio, washing machine, TV and kitchen.
In the PILOTīS HOME, (Ap. 2,3,4,5 sleep 1 - 7 people) where Gerry also lives, you are amongst pilots from all over the world. There are 3 fully equipped apartments with 1 or 3 bedrooms and another double room with en suite, without kitchen at your disposal. Schools and groups apreciate very much the huge common room of the chimney-apartment (Ap. 2), which is ideal for the daily flight analysis, videos, briefings, meeting point, barbeque, fiestas etc.The location is very central, only about 50 meters from the town square, but still completely quiet.
The CASA ZAHARA (Ap. 6) sleeps 11. This is an independent complete house at the edge of the village with its beautiful terrace opening on to tremendouse views of this terrific landscape with Sierra Lijar, the village of Zahara, the valley and mountains of the natural park of Grazalema. A very quiet place, which feels like out in the countryside. There are 6 bedrooms, a big living room with kitchen, TV, bathrooms, washing machine etc.